HOMEPAGE ︎︎︎
---
OVERVIEW

Take note of the little things with For Now. Rachel worked with Ordinary Habit to bring their first-ever guided journal to life. She led editorial development, copywriting, and promotional content efforts.


SERVICES
Content Strategy ("Taking Note" blog series)

Creative Consulting
Copywriting (Select Social/Web/Email)

Journal Prompts (Ideation/Copy for 100+ prompts)

Product Naming (For Now)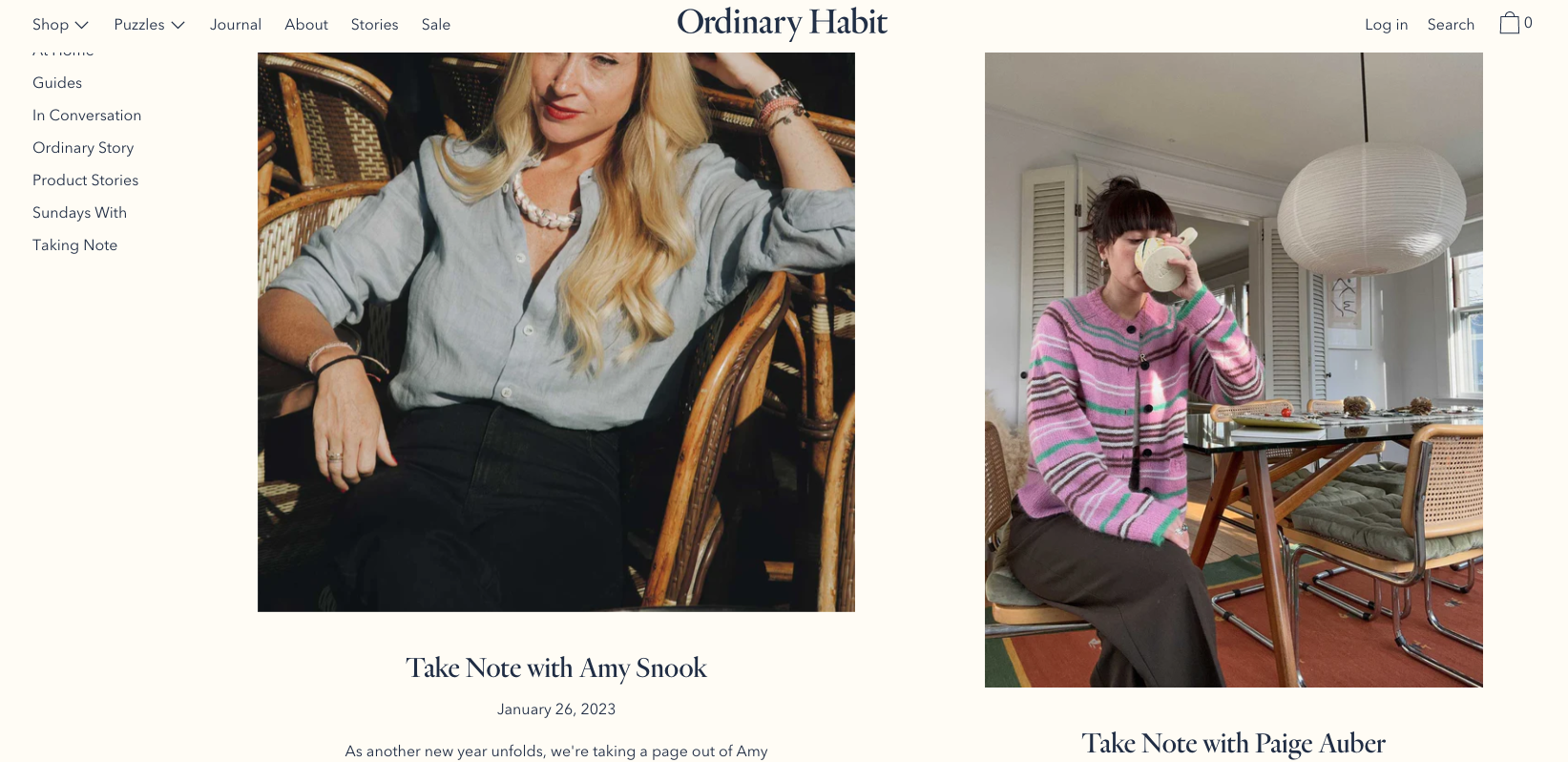 REFINERY29


"A mindfulness habit requires time and commitment—two qualities that conflict with a fast-paced lifestyle. But, the journal's weird assignments and anarchical vibe take off the pressure of production. Each page piles on enough intrigue to make you want to flip another. One thing is clear: this journal was made by artists and not by a corporation."
- Alexandra Polk

---
OVERVIEW


Rachel writes select copy for Ordinary Habit's editorial, email, and social channels. Please email for more information.

SERVICES

Content Strategy
Copywriting
PROJECTS

Ordinary Story
Taking Note
Lifestyle Guides/Interviews
Brand/Product Stories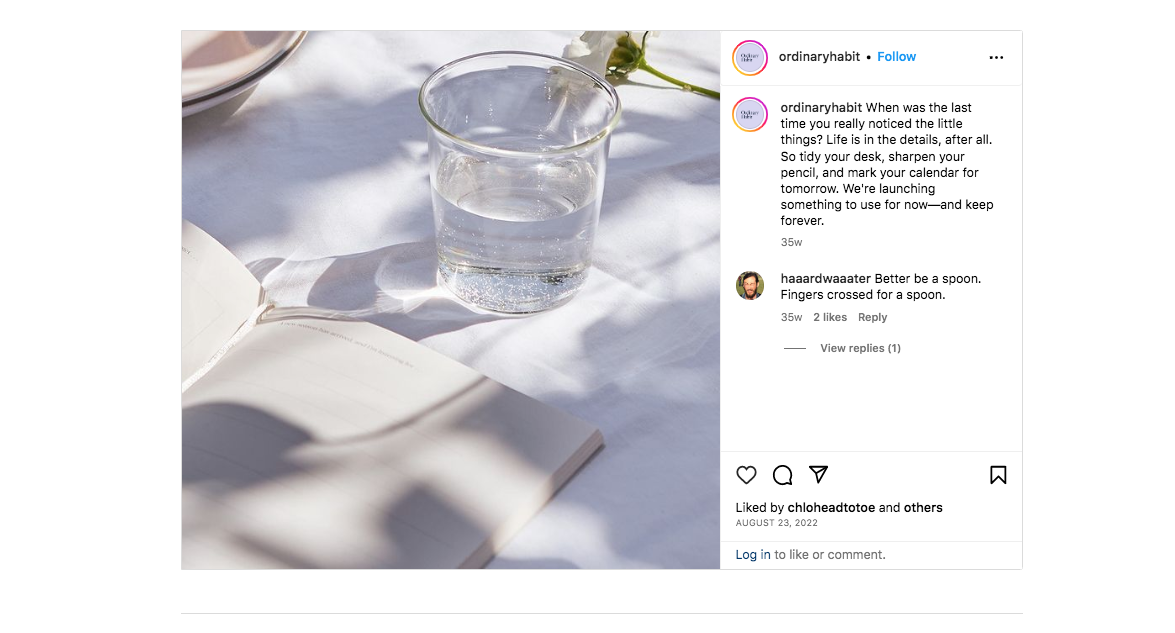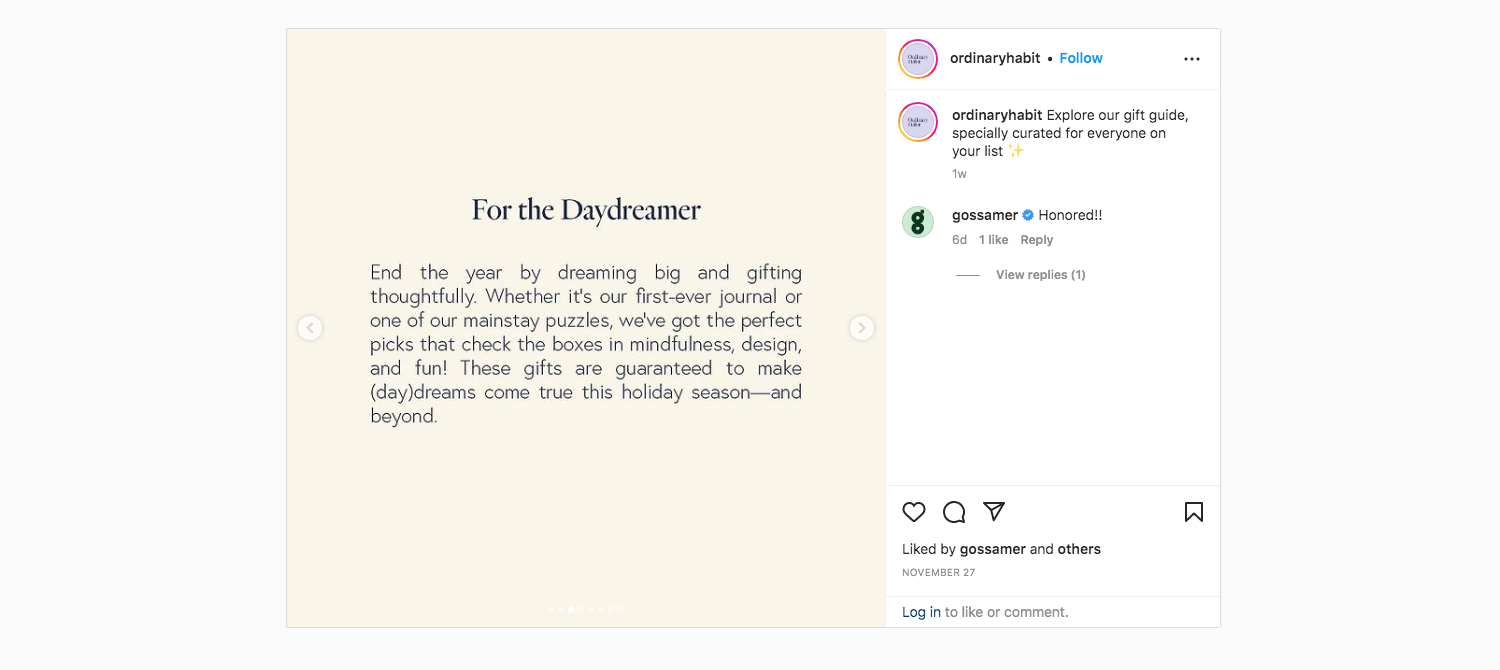 ---
OVERVIEW


Laundry Service and Adobe hired Rachel as the sole editorial creative on the CoCreate: Max team. Rachel interviewed all team members, wrote their bios, and penned an exclusive letter for the event recap page. Please email for more information.

SERVICES

Artist Interviews
Editorial Content Creation
︎ Selected Team Bios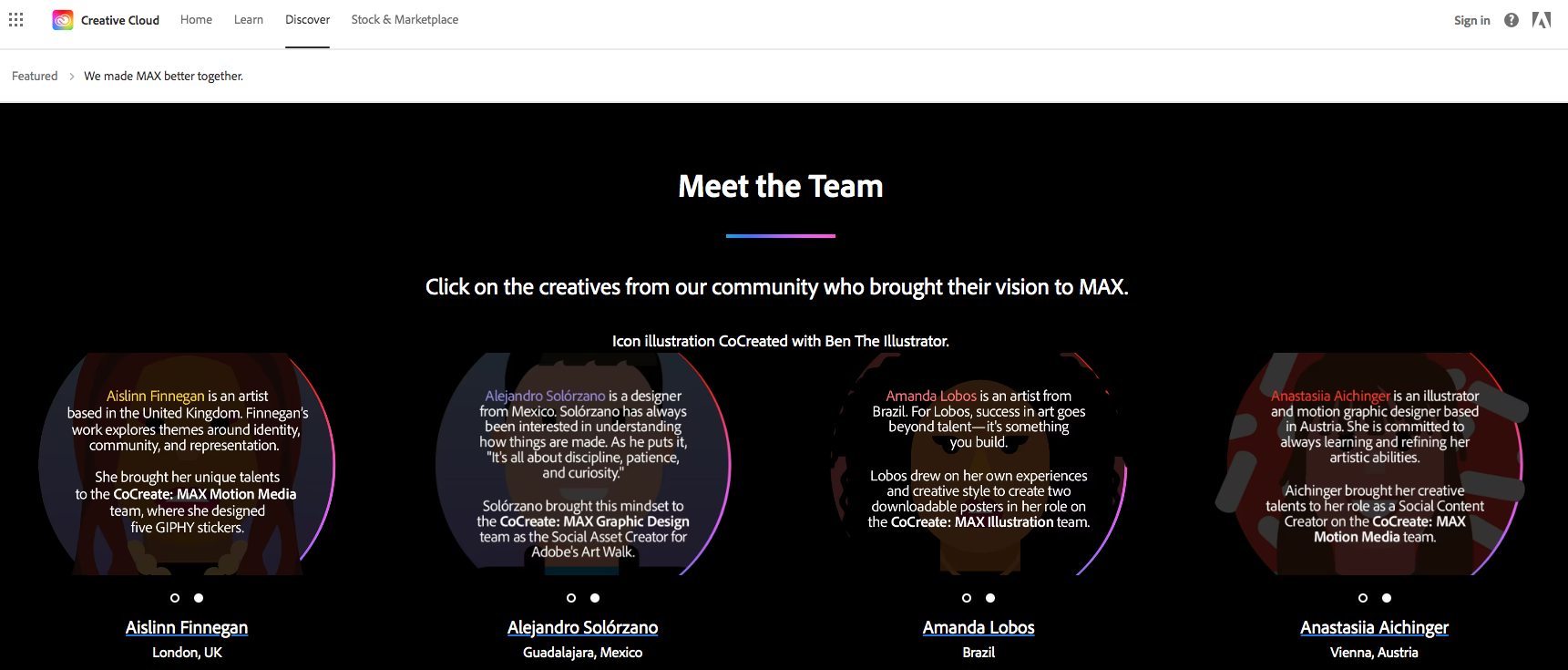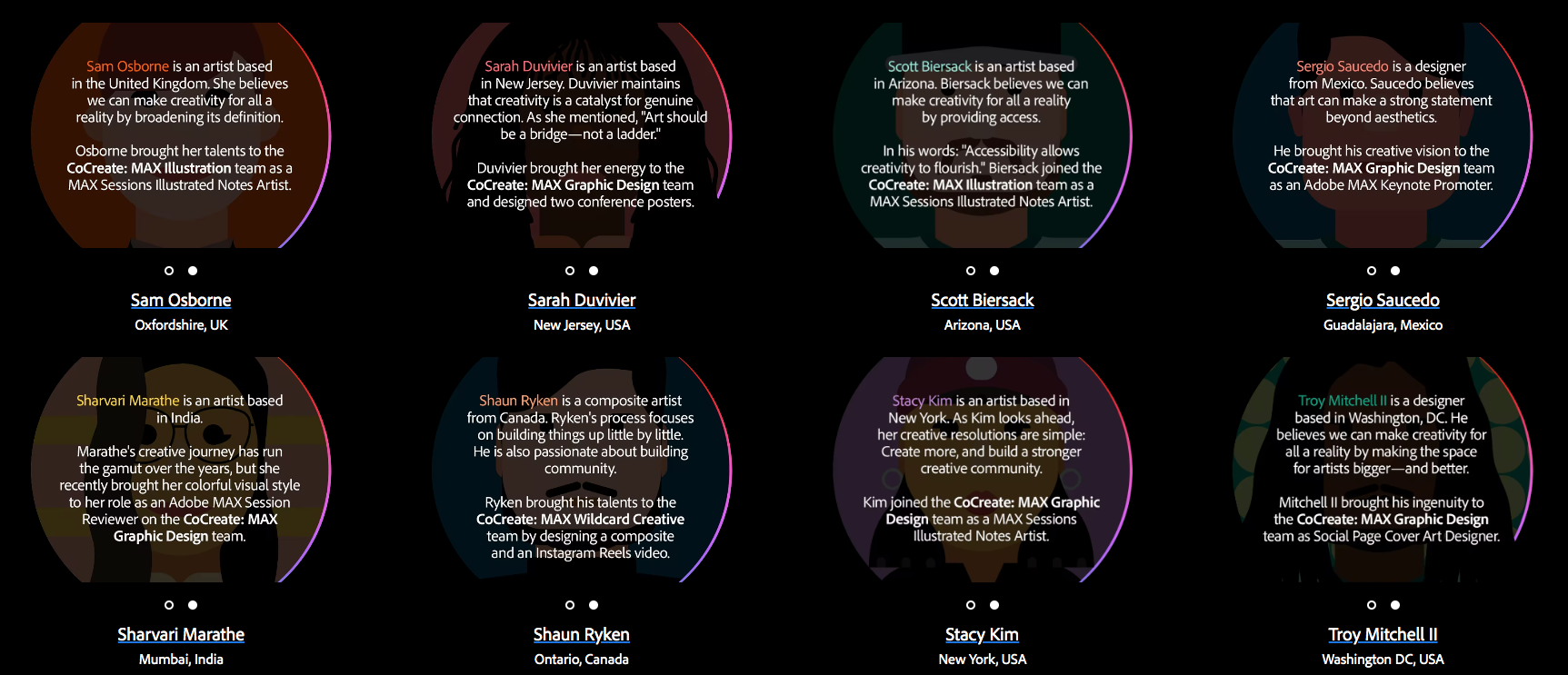 ︎ Rachel's creativity letter
---
︎ Podcast︎︎︎
Slow Stories | 2020-Present
OVERVIEW

In May 2020, Rachel formally launched the Slow Stories podcast, which explores living, working, and creating more intentionally in our digital age. She also produces/writes a supplemental editorial series called Slow Seasons.

TASKS
Content Strategy
Episode Writing
Hosting

Interview Writing/Research
Podcast Production
SELECT GUESTS
Courtney Marie Andrews
Ross Gay
Laura Cramer and Starr Hout
Deja Foxx
Suleika Jaouad
Katie Kitamura
Coco Mellors
Ella Frances Sanders

Lisa Taddeo
Hannah Traore
Zak Williams
---
OVERVIEW

In 2020, Rachel worked on various content partnerships with Crate and Barrel. Rachel's second project focused on "dining in." She highlighted select lifestyle pieces through multimedia storytelling.

SERVICES
Content Creation (Social Media)
Lifestyle Photography + Styling (Catalog)
---
OVERVIEW


Rachel launched PLANOLY's beloved virtual event series in the early days of COVID-19. She spearheaded high-level strategy, messaging, and programming alongside the internal brand and creative teams. Please email for more information.

SERVICES
Brand Strategy
Copywriting
Creative Consulting
Partnerships
ADDITIONAL TASKS
Event Moderation
Panel Scripts
Partner Curation/Outreach

Partner Materials/Messaging
Program Ideation/Naming
Workshop Ideation/Naming
---
OVERVIEW


ADAY hired Rachel to produce their Plant Life collection launch in New York City. She consulted on high-level strategy—which included installation art and performances—and curated brand partners, including The Sill, Hudson Wilder, and more. Please email for more information.

SERVICES
Creative Consulting
Event Production
Partnerships

Event art by John McLaughlin ︎Produced by Rachel
---
OVERVIEW



Rachel was one of PLANOLY's first collaborators. She worked with them on several brand storytelling projects. Please email for more information.
SERVICES
Brand Marketing

Copywriting

Content Strategy

Partnerships

Special Projects
︎ Please email for Rachel's full copywriting portfolio.


Black Friday Tagline: Stress less. Plan better.
---
OVERVIEW



The Echo Collection was a limited edition, co-branded jewelry box collection designed by Melissa Joy Manning and The Style Line (Rachel's company). The project aimed to "echo" change and inspire conscious consumption. Melissa and Rachel decided that jewelry boxes were the perfect vessel to represent that longevity (they protect the things that matter most). Rachel led branding, content creation, and event partnerships.
SERVICES
Content Creation
Event Production/Partnerships
Product Ideation/Naming

Photos by Masha Maltsava (Collection 01)
Collection 01
Collection 02
---
OVERVIEW



Rachel founded The Style Line in 2011. It began as an industry-leading fashion Tumblr and developed into a boutique content company in 2013. Rachel ran The Style Line's publishing and consulting arms, produced over a dozen internal and client events across the United States, conceived several editorial packages (i.e., A Girl Abroad, NYFW Virtual Sketchbook, Studio Visit, and more) and profiled hundreds of creative tastemakers. Please email for more information.
SELECT PRESS AND PARTNERS
Away
CFDA
Create & Cultivate
Forbes
Melissa Joy Manning
Refinery29
Squarespace
Tumblr
West Elm
ACCOLADES

Best in Fashion Finalist, Shorty Awards (2015)
---